I've just arrived at Rotorua YHA, which is a splendid, newish purpose-built hostel. I have a small bedroom with ensuite, bigger than most of my hotel rooms in France last year. It's in the middle of a very busy little town, and I have already decided to leave my breakfast provisions in the car and to choose one of the many trendy cafes for breakfast in the morning instead.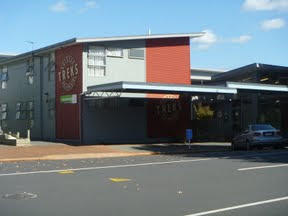 The hostel is built of bluish-grey timber with panels of rusty-red corrugated iron. The photos don't give an idea of it's size: it's a big hostel and seems to be well patronized.
I am about to drive back to the outskirts of town to visit Te Puia, advertised as New Zealand's premier Maori cultural centre and the site of a world-famous geyser. I found the experience this morning of driving past huge plumes of steam coming out of the ground rather disconcerting, especially as it is so clear that all the surrounding hills have been created by massive eruptions. I hope that the escaping steam acts as a safety valve and that the earth will remain quiet.
Tonight I have booked a visit to a Maori village, including traditional Maori celebrations and a hangi dinner. They will pick me up and drop me back to the hostel, which is much better than having to drive.
I spent last night at Taupo, with a lovely view of the lake from my balcony. I drove into town for supplies, as I was too tired to consider a restaurant meal, but I was even too tired to heat up a ready-to-go meal and ended up having the risotto I had purchased for breakfast. I slept for 11 hours, which may indicate that I was indeed in need of a holiday.
I deliberately hired an automatic car to see if it was less painful to drive than my manual, but after a three-hour drive my left shoulder was worse than usual, which suggests that my little Yaris is not the problem.
I am still loving my iPad, although I find that it takes me a while to get the hang of typing on it each time I have a go. I was not much impressed a while ago when I hit "undo", expecting to delete the last word, and lost several paragraphs. The Pages program automatically saves every few seconds, but that is obviously not the case in other programs. I am still getting the hang of predictive text, too, which I don't like much at this stage - especially when I saw it had converted my "cafes" into "cages".
Posted using BlogPress from my iPad
Location:Rotorua